Compressed natural gas (CNG) cylinders are high-pressure containers used to store and transport natural gas as fuel for vehicles and other equipment. They are typically made of steel or composite materials and are designed to withstand the high pressures and extreme temperature fluctuations associated with natural gas storage.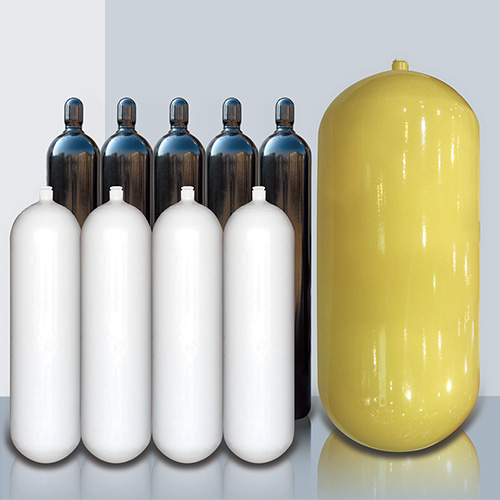 CNG cylinders have several key features that make them suitable for storing and transporting natural gas. These include.
High Pressure
CNG cylinders are designed to withstand pressures of up to 3,000 pounds per square inch (psi) or higher. This is necessary for storing natural gas at high densities, allowing more fuel to be stored in a smaller space.
Durability
CNG cylinders are built strong and resistant to damage, ensuring they can safely transport and store natural gas without rupture or leakage
Safety Features
CNG cylinders are equipped with a variety of safety features to prevent accidents and to ensure that they can be handled safely. These may include pressure relief valves, overfill protection devices and other safety mechanisms.
Size and Weight
CNG cylinders come in a range of sizes, from small portable tanks to large stationary tanks. They are typically lighter than other fuel storage options, such as gasoline or diesel tanks, which can make them easier to transport and install.
Compatibility
CNG cylinders are designed to be compatible with a wide range of vehicles and equipment, making them a versatile fuel storage option for a variety of applications.
Overall, CNG cylinders are an essential component of natural gas fuel systems, providing a safe and efficient way to store and transport natural gas as a fuel. Please contact us for professional help if you need it.